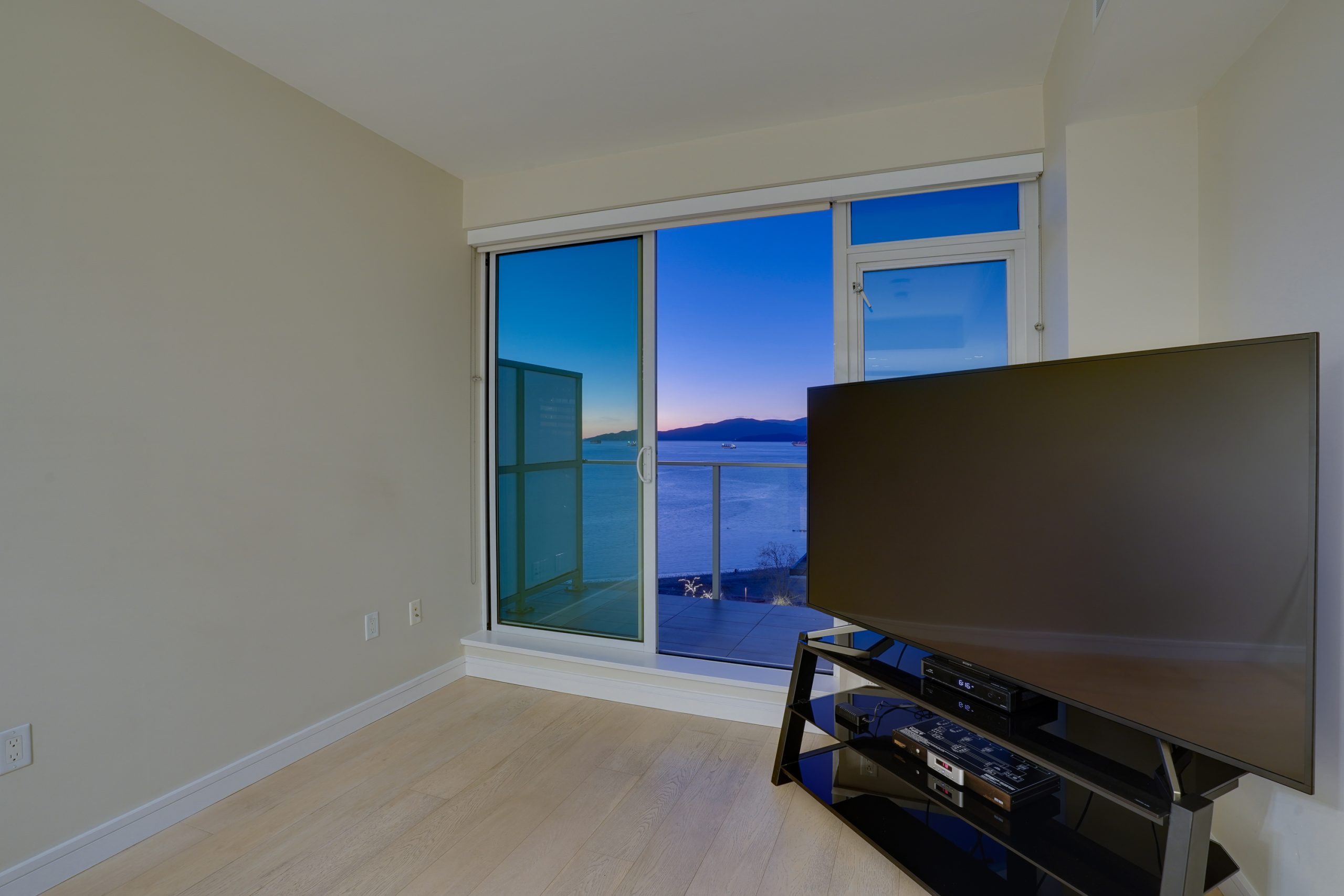 Unit 1207-1221 Bidwell Street in Vancouver Presents an Unparalleled One-Bedroom Haven
Nestled in the heart of Vancouver, the exquisite unit at 1207-1221 Bidwell Street is a one-bedroom apartment like no other. Offering a breathtaking ocean view that seems to defy reality, this rare gem stands out as a unique opportunity for those seeking tranquility, convenience, and a connection to the natural world.
Unmatched Ocean Views Step into a world of unparalleled beauty as you're greeted by the awe-inspiring ocean vista just a stone's throw away from English Bay. This property boasts an extraordinary location that combines the serenity of seaside living with city convenience, creating a once-in-a-lifetime chance to savor life by the water's edge. The unit is perfectly oriented to ensure that the captivating ocean view becomes a constant companion, visible 24/7 from both its living areas and a spacious balcony.
Modern Elegance Inside, an open living concept awaits, adorned with top-tier features such as stainless steel Miele Appliances, sleek stone countertops, lofty 9-foot ceilings, and the comfort of central heating and air conditioning. The building itself offers an array of enticing amenities, including a luxurious lobby, round-the-clock concierge services, a well-equipped gym, and a chic lounge area.
Seaside Lifestyle In addition to the unparalleled ocean view, the location offers the convenience of a one-minute walk to the beach. Nature enthusiasts, foodies, and those seeking retail therapy will find themselves in paradise, with restaurants, coffee shops, and grocery stores right on their doorstep. This exceptional unit promises not only LESS traffic and LESS noise but also LESS concrete, delivering an astonishing 100 times more OCEAN VIEW.
Your Dream Awaits Don't miss out on the chance to make this 549-square-foot property your own, complete with a generous 140-square-foot balcony that provides an unobstructed, mind-boggling ocean view. Plus, rest easy with the inclusion of one parking stall, ensuring your convenience and comfort.
A Rare Opportunity This apartment is a true gem in English Bay, offering the ONLY one-bedroom unit currently available for sale with a direct, unobstructed ocean view. It's an extraordinary opportunity to savor endless sunsets, making this not just a real estate investment but a ticket to a lifetime of natural beauty and serenity. Schedule your appointment today and witness this dream unit for yourself!
I really believe my apartment is worth $2 million dollars, but I know that not all people feel the same way, so I decided to evaluate my property by following the established real estate industry guidelines!
How to calculate the value of my one bedroom condo for sale in Vancouver?
In real estate, a property's value is determined through comparisons with similar properties that have recently sold. These comparable properties should ideally share the same location, building, and similar attributes. For instance, an apartment in my building, unit 2002, recently sold for $5.75 million, boasting 2,190 square feet. Calculating its price per square foot ($5.75 million / 2,190 SF) yields $2,625 per square foot.
By applying this square footage price to my 549-square-foot property, its estimated worth stands at $1,441,125. This method aligns with industry standards for property valuation, providing a solid basis for determining a property's value.
For sale: $1,441,125 million
Total Views: 770
Daily Views: 3